Entry and Advancement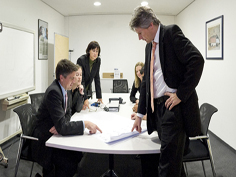 Jump-start your career at Knorr-Bremse. As a world leader in brake systems for rail and commercial vehicles, we know that safe braking is the basis for acceleration.
To achieve this, Knorr-Bremse needs employees who seek to be challenged and encouraged. Our transparent structures make short decision-making processes possible and individual successes noticeable. Responsibility at Knorr-Bremse doesn't end outside the department and often extends over international borders. The Knorr-Bremse culture is a real-world mix of nationalities. A variety of intercultural training sessions and language courses reinforce this concept.
To help you adapt quickly our highly demanding technology, exciting behind-the-scenes tasks and our international culture, we pay special attention to structured employee orientation. Each new employee receives an orientation plan and a sponsor who provides assistance during the first month on the job. New employees at all German-based locations also receive a overview of the Knorr-Bremse Group at a two-day introductory event at headquarters in Munich.
At Knorr-Bremse, we take professional development very seriously. From social competence training to language courses to technical training, you'll find it all in our training program guide. Courses are held at our training center in Munich.
Finally, flat hierarchies help our staff bring their knowledge and skills to the road and rail. Taking on responsibility is highly valued at Knorr-Bremse!